Christopher L. Augostini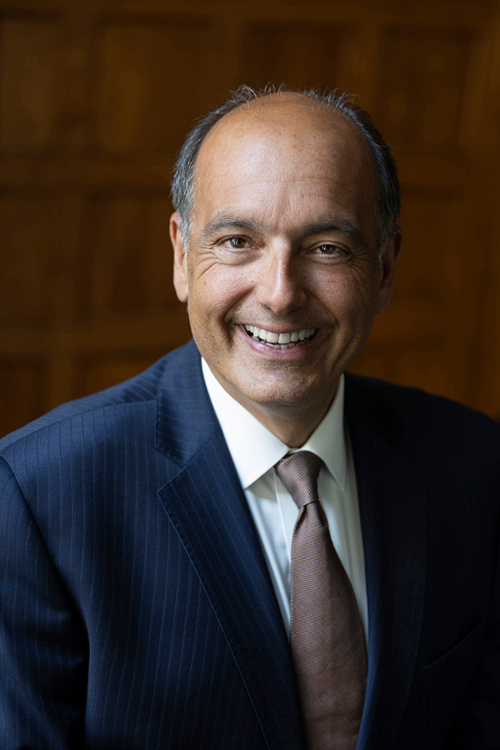 Contact Information
Email
evpba@emory.edu
Executive Vice President for Business and Administration,
Chief Financial Officer, Emory University,
Interim Chief Financial Officer, Emory Healthcare, 
and Vice Chair Emory Healthcare Board of Directors
Christopher L. Augostini serves as the executive vice president for business and administration (EVPBA), chief financial officer for Emory University, interim chief financial officer for Emory Healthcare and vice chair for Emory Healthcare's Board of Directors. He is responsible for ensuring the Emory enterprise, in which Emory University and Emory Healthcare are strategically and financially integrated, is poised to create an environment that fosters excellence in people, facilities, infrastructure, and operating and financial performance. His innovative and collaborative leadership style brings cross-functional and enterprise-wide teams together, enables them to do their best work, and drives excellence operationally and financially. The exceptional results that Augostini and his team have delivered have led to Emory being the university of choice for students, faculty, and staff and the health system of choice for patients, doctors, nurses, and staff.
Reporting to the president of Emory University, Augostini collaborates with members of the president's leadership team, senior management leaders of Emory Healthcare, the Emory University Board of Trustees, the Emory Healthcare Board of Directors, and other stakeholders to identify enterprise opportunities and issues and to implement long-term sustainable solutions. As chief financial officer, he is responsible for strategic oversight and leadership of integrated financial, debt management, and cash strategies for the Emory enterprise.  Under his direction, Augostini launched teams to develop the first all-funds integrated financial plan and debt portfolio restructuring. Augostini leads the overall business operations strategy for Emory University including enterprise-wide master planning and real estate strategies; management of Emory's approximately $7 billion investment portfolio; information technology and cyber security strategies; enterprise risk management, internal audit, and compliance integration; human capital practices of one of Georgia's largest employers; and execution of campus services across Emory's Druid Hill and Oxford campuses.
As the vice chair of Emory Healthcare's Board of Directors, Augostini provides oversight of Emory Healthcare's strategic financial position. Working with the executive vice president for health affairs and the Emory Healthcare leadership team, Augostini is responsible for multi-year financial planning to align with and in support of Emory Healthcare's strategy with an emphasis on high-quality, patient-centered care. Emory Healthcare, with more than 24,000 employees, 11 hospital campuses, and 425 locations, is the most comprehensive academic health system in Georgia.
Prior to joining Emory, Augostini served as senior vice president and chief operating officer at Georgetown University. Over his 17-year tenure at Georgetown, he consistently delivered improved operating results, balance sheet metrics, and investment returns. Specifically, he initiated the first multi-year operating, capital, and financial plan that addressed health care system losses and their impact on the enterprise. He also served as chief of staff to the first deputy mayor of the city of New York under Mayor Rudolph Giuliani, as well as deputy budget director and director of intergovernmental affairs overseeing the city's efforts in Washington, D.C. and in Albany, New York. He served in numerous positions within New York State (NYS), including principal budget analyst for the NYS Ways and Means Committee and program analyst for the NYS Assembly Higher Education Committee. He is currently on the Board of Directors for W. R. Berkley Corporation, an insurance holding company. Augostini has a master's degree in public policy analysis from the State University of New York at Albany.